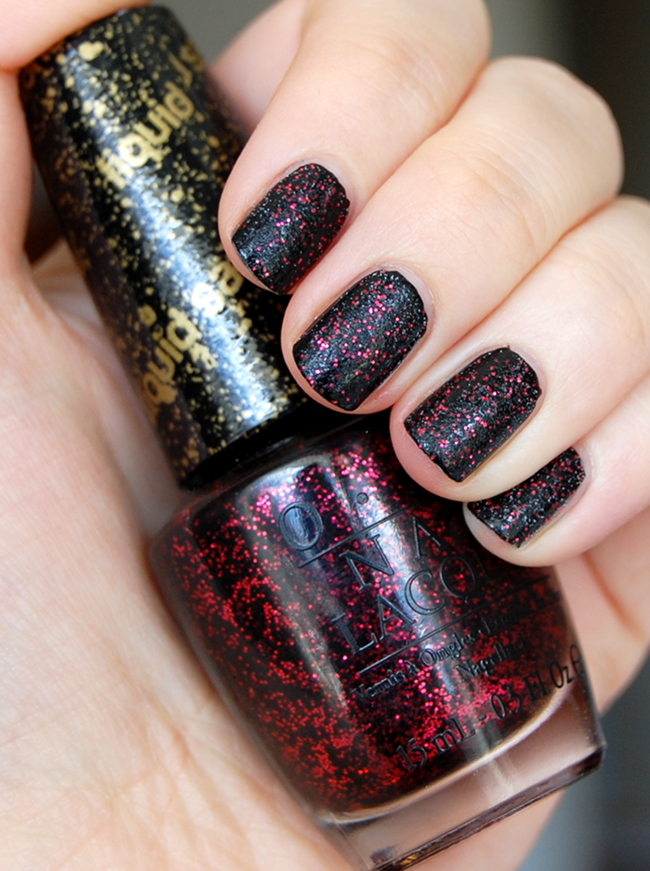 Opi har släppt en del "sand"-lack nu det senaste. De är skrovliga och bärs utan överlack. Stay the night har svart bas med svart sand och rött glitter och ser ut som lava och är alltså ungefär hur ballt som helst. Lacket ingår i Mariah Carey-kollektionen.
Här har jag målat ett lager, för jag hade redan svart under och ville inte behöva vänta på att två lager skulle torka. Utan överlack tvingas jag ju vänta ut den faktiskt torktiden hos lack. Med två lager blir det så klart mer både sand och rött glitter.
Glitter brukar vara färgade, vilket märks vid borttagning: glittret är kvar på nageln men färgen borta. Det brukar inte synas innan borttagning eftersom överlacket skyddar mot slitage. Men eftersom jag bär det här lacket utan överlack slits den röda färgen bort från glittret vid tipparna, och efter några dagar är de glitterkornen silvriga.
Jag använde Essie Nourish me som underlack, ett lager Essie Licorice under och ett lager Opi Stay the night överst.